Foxs Cards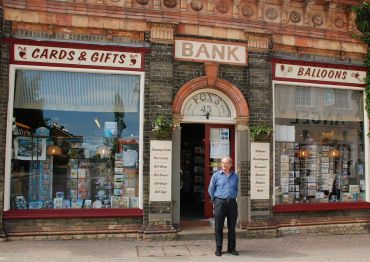 Fox's are greeting cards specialists offering the full range of greeting cards for all events, all ages, celebrations and birthdays. Stocking different types of cards including novelty and the unusual, all from over 25 suppliers, including national companies and specialists (local artists too). Surely this is the place to find that particular card you are looking for, whatever the occasion.
Also stocked are party and wedding items, banners, balloons, badges, boxes, gift wrapping, personalised items, jigsaws, fridge magnets and many more other gift ideas. Here you can buy from the popular range of Helium–filled balloons and browse souvenirs of Halesworth.
This distinctive shop at the Market Place end of Thoroughfare was once a Bank (see photo). Rodney Fox has served Halesworth well from here for over 30 years.
The large display windows at Fox's can only show a glimpse of the truly huge selection of items available. Come inside and see for yourself all the delights that Fox's has to offer.
Foxs Cards
45 Thoroughfare
Halesworth
IP19 8AH
Opening Times
Monday to Saturday 9am - 5pm every day