Allen's Butchers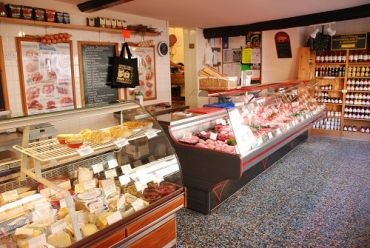 There has been a butchers shop on this site for at least 200 years. Kevin Allen, who has owned and run the shop for over 15 years, is committed to selling the best quality local produce. For this reason he buys all his meat direct from local farms. The beef is local Aberdeen Angus, the pork is Blythburgh Free Range and the lamb too comes from local farms. Direct purchasing not only assures quality but is also cost effective and this makes Allen's prices very competitive.
Kevin and his staff are very knowledgeable about all aspects of their products and will be delighted to advise and help you choose.
Allen's Butchers make over 20 different kinds of their own sausages! All made in house to their own recipes from local ingredients. This is real local food.
Allens Butchers also carry an excellent range of real cheeses featuring a number of Suffolk & Norfolk cheeses and as well as some from further afield (try their organic Cornish Brie!).
They can deliver your order locally too, if required. Personal service and many years of experience are the hallmarks of this outstanding local butcher.
Allen's Butchers
2 Market Place
Halesworth
IP19 8BA
Opening Times
Monday - Friday: 7am to 1pm
Saturday: 7am to 1pm