Cecil Amey Opticians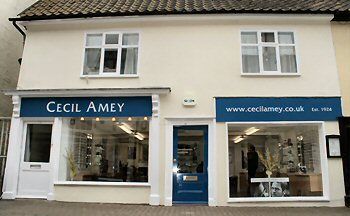 Now part of the long established Cecil Amey Group (previously Philip and Mary Thompson Opticians) we have been providing optician services in Halesworth for over 15 years.
Offering both Health Service and Private sight tests for all ages, we at Cecil Amey Opticians pride ourselves on our high levels of customer service and provide only high quality products at competitive prices.
We have facilities to provide both diabetic and glaucoma screening, including a retinal camera.
We have a wide range of fashionable frames including designer frames from Ted Baker, Tiffany, Rayban, Lacoste and Joules. So come and browse, but feel free to ask because if we don't have what you want on display we can often get it.
Our staff are all very highly trained and experienced in their roles and many have specialised in other areas including Low Vision assistance, dyslexia and other reading difficulties and the provision of coloured overlays or lenses to help with reading.
As well as spectacles we also provide a full contact lens fitting service including initial assessment and full aftercare.
Please feel free to pay us a visit and talk to one of our staff about the services we offer or ring to arrange an appointment to see one of our optometrists for a sight test.
Cecil Amey Opticians
49 The Thoroughfare
Halesworth
IP19 8AR
Opening Times
Monday to Friday 8:30am to 5:30pm
Saturday 8:30am to 4:30pm

Eye tests are available on Monday, Wednesday, Friday and Saturday.