Cecil Amey Opticians and Hearing Care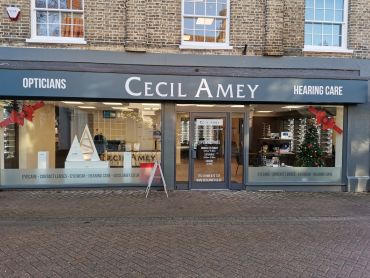 Cecil Amey was established in Norwich in 1924. Today there are 10 Cecil Amey practices across Norfolk and Suffolk, making it the biggest independent opticians in East Anglia.
We stock an unbeatable range of eyewear, including designer frames, glasses, sunglasses and sports eyewear, as well as contact lenses and accessories. We also offer expert, professional eyecare and advice from our team of highly qualified opticians, optometrists and optical assistants.

Our staff are all very highly trained and experienced in their roles and many have specialties in other areas including Low Vision assistance, dyslexia and other reading difficulties and the provision of coloured overlays or lenses to help with reading.
As well as spectacles we also provide a full contact lens fitting service including initial assessment and full aftercare.
We have recently introduced Hearing Care to our list of services and have a team of highly qualified Audiologists available,who will be happy to help with any queries on hearing issues.
Please feel free to pay us a visit and talk to one of our staff about the services we offer or ring to arrange an appointment for sight or hearing tests.
Cecil Amey Opticians and Hearing Care
9 10 Bridge Street
Halesworth
IP19 8AB
Opening Times
Monday to Friday 8:45am to 5:30pm
Saturday 8:30am to 5:00pm

Eye tests and Hearing tests available, please call to book an appointment.