Focus Organic: Food, Clothing and Gifts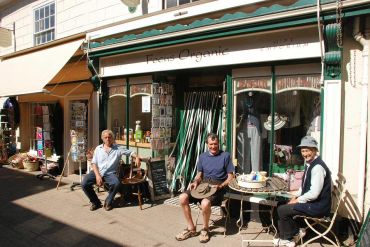 Focus Organic is truly an amazing shop which is a joy to visit. You should allow yourself plenty of time to browse the shelves and to experience the comprehensive selection of foods and goods on offer. Collect a shopping basket on your way in and feel confident that the knowledgeable staff can direct you to just what you are looking for or will be happy to answer any questions you may have.
For daily shopping select from fresh–baked local breads and cakes, cereals, flours, jams, pulses, beans, frozen foods including vegetarian ranges, dairy, spices, herbs, oils and delicious treats and sweets. You will be spoilt for choice if you require deli items, including an impressive range of olives. At Christmas and on other occasions Focus Organic excels itself with extra stock of quality speciality items sourced locally, nationally and internationally.
Further into the shop discover a wonderful range of clothes, jewellery, cards, gifts, novelty items and more.
Focus Organic also stock cruelty–free cosmetics and a wide range of alternative remedies.
A new addition to Focus Organic is the coffee bar and the outside tables and chairs, where you can enjoy quality coffee and cake.
Focus Organic: Food, Clothing and Gifts
14 Thoroughfare
Halesworth
IP19 8AH
Opening Times
Monday to Saturday 9am – 5pm