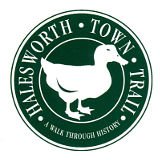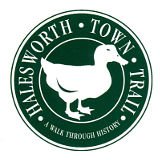 Halesworth Time Line:
A Walk Through History
1900 – 2002AD
1907 first telephones in Halesworth.
1915 introduction of electricity to the town - although streets are still lit by gas until 1949. Almost every family in the town has a relative at the Front and the Patrick Stead Hospital is an emergency hospital during the Great War.
1917 air raids over East Anglia by Zeppelins. Halesworth locals see red lights in the sky on the horizon. Some cycled down the London Road towards Theberton where a Zeppelin had been brought down by a lone pilot. The pilot had heard a Zeppelin flying in low, clearly intent on a bombing raid. He jumped into his plane still wearing his pyjamas and flew above the Zeppelin throwing down grenades. Sixteen bodies were pulled out of the wreckage and one survivor was handed to the police. There is a memorial in Theberton Churchyard to those who died.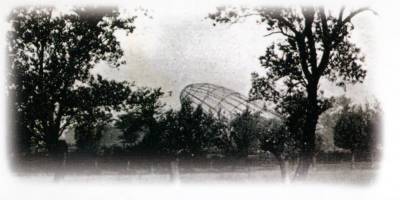 1941 World War II and Patrick Stead is used again as an emergency hospital. A bomb intended for the station sidings misses and drops onto the station house killing the Stationmaster, his wife and their young maid.
1942 Halesworth is named, among others, as a prime air raid target in a personal order issued by the Fuhrer. Children at Edgar Sewter School come under machine gun fire and hide amongst sprout stalks in a nearby field.
1943 American airforce personnel and aircraft arrive at the airfield in August. Glen Miller plays a concert to a packed Halesworth Airfield hangar.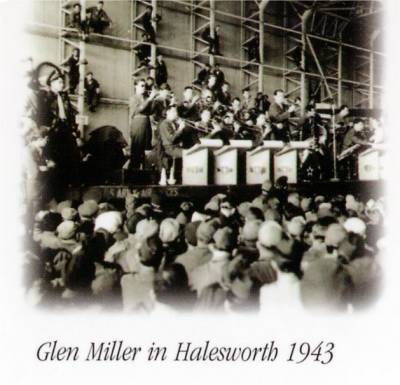 1944 LT Joseph Kennedy (elder brother of assassinated US President John F Kennedy) is killed whilst setting a flying bomb on target. His colleague Lt Wilford HJ Illis is killed along with him as the bomb explodes prematurely over the Blyth Estuary before they have a chance to escape.
You can read more about this in the "Blythbugh History Notes".
1946 Halesworth Airfield closes down and is taken over and used by the Ministry of Food until Bernard Matthews takes it over in 1976. There is a memorial museum on the site of the airfield.
1954 Waterworks arrive in the town. Until then a pump and gas engine in Chediston Street provided water in addition to the ancient water pump in the Market Place.
1958 Norwich Road railway bridge opens providing an alternative to the level crossing by the station with its moveable platform gates.
1989 Saxon Way relief road opens allowing through traffic to avoid the narrow, twisting Thoroughfare that is also the main shopping street. This opens the way for:
1991 The Thoroughfare pedestrianisation opens.
December 1999 the Halesworth Town website is launched by Blythweb.
January 2000 Millenium oak tree is planted in the Town Park.
Spring 2000 the largest Millennium Green in the UK is purchased for the town.
Summer 2001 Halesworth Town Trail is launched.