Halesworth Town Trail
Rectory Lane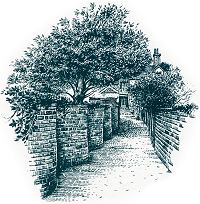 This is often referred to as 'Duck Lane' by locals - for reasons that will soon become apparent. The crinkle crankle wall was built without buttresses as the curve provides lateral stability as well as shelter for more delicate climbing plants. Crinkle-crankle walls in England date from the mid 18th Century.
The bridge crosses over the Town River and is a favourite place to feed the ducks, so no doubt you will be watched hopefully by the local duck population! Over the wall on the left is the Old Rectory, a billet for Land Girls during World War II. By the bridge is a bricked-up doorway which was once used as the Rector's short cut to the Parish Church. The half circles that can be seen at the bottom of the wall originally had wooden shutters, which would be removed to allow floodwaters to overflow into the Rectory Moat.
The Old Rectory is a timber framed brick nogged building with plaster walls. The oldest part is 16th Century, with 18th and 19th additions. One of the incumbents was Richard Whateley, (Rector 1822 - 1831). He was a vocal critic of slavery and renowned Oxford academic. He became Archbishop of Dublin in 1831.One of his descendants is the actor Kevin Whately.
The Rector is said to have terrified local boys caught scrumping in his orchard by dressing up in his white surplice and pretending to be a ghost.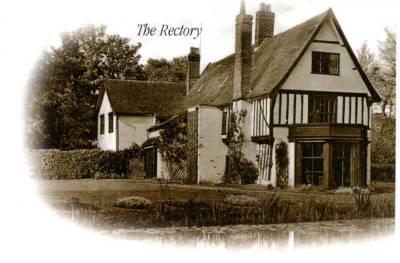 View the Town Trail on the Halesworth Map