The Hooker Family of Halesworth
Sir William Jackson Hooker 1785 - 1865
Sir Joseph Dalton Hooker 1817 - 1911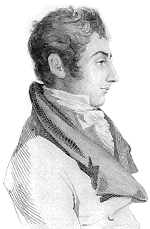 The first of that remarkable father and son double act, the Hookers of Kew, lived in Halesworth for eleven years, and the second was born in the town. Born in Norwich, William attended Norwich School and at the age of eleven inherited in trust the Jackson estate in Kent. He was early encouraged in his botanical interests by the Norwich doctor James Smith, founder of the Linnaean Society.
After a period studying estate management, William became a partner in Halesworth Brewery, with Dawson Turner and Samuel Paget. He took a quarter share for £8000 and moved into the brewery house to superintend operations. The house had a large garden and heated greenhouse in which William could rear exotic orchids.
In 1820, he was appointed as Professor of Botany in the University of Glasgow, although he retained his partnership in Halesworth brewery. William's career developed at Glasgow and he was dubbed a Knight of Hanover in 1836. Finally in 1841 came his appointment as the first Director of Kew Gardens, which post he held until his death, enlarging and transforming them into one of the world's leading botanical gardens and building the superb Temperate and Palm Houses.
Sir William died, loaded with honours and with his son already installed as Deputy Director, on 12th August 1865. He was buried in Kew churchyard and there is a tablet to his memory in the church. It was not until 1930 that a tablet to both the Hookers was unveiled in Halesworth church.
Joseph Dalton Hooker, second son of Sir William, was born in Halesworth on 30th June 1817, but at the age of four, moved with his parents to Glasgow. He attended high school and university there, and qualified as Doctor of Medicine in 1839. The same year came a remarkable opportunity when, no doubt through his father's influence, he enrolled on the Erebus under Captain James Ross, nominally as surgeon but really as botanist, to explore Antarctica, also visiting Australia, New Zealand and the Falklands. While in Antarctica the Ross ice barrier and Mount Erebus were named, and on the expedition's return in 1843 Hooker published his botanical findings.
A second expedition followed to India, where he spent two years trekking in the Himalayas and Sikkim, climbing to over 19,000 feet and sending home the first Rhododendrons. He returned home in 1851 and married Frances Henslow.
He was by now a close friend of Charles Darwin, with whom he corresponded regularly, and Hooker later said "I believe I was the first to whom he communicated his then new ideas on the subject [of evolution]". In 1855 he was appointed assistant director to his father at Kew Gardens, and Darwin wrote to congratulate him "though the income is but a poor one". After the death of Sir William in 1865 Joseph succeeded to the Directorship. In 1873 he was elected President of the Royal Society. He was knighted in 1877 and after retiring from Kew in 1885, spent twelve years publishing his magnum opus, The Flora of India, in seven volumes. He died in 1911, aged ninety-four and was buried near his father in Kew churchyard.
This account of the Hookers is an abridged version from "The People of a Suffolk Town (Halesworth 1100 - 1900)" by Michael and Sheila Gooch.