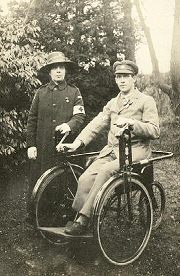 Halesworth has a rich history with a settlement being recorded here from over 3000BC. There are a selection of links listed below with information on the recent history of the town, from the story of the pubs of the area to locally discovered artifacts and the Halesworth War Memorial.
The Halesworth Timeline features a summary of all information about the settlement at Halesworth from pre-history to the turn of the second Millennium.
Halesworth also has a rich brewing history. Its pubs are explained in some detail and with original photos by Janet Huckle in A history of Beer and Pubs in Halesworth.
Halesworth War Memorial, created in 1921, stands near the centre of the town and this page gives much detail abount its creation, inscriptions and Unveiling Ceremony.
The Halesworth Museum webpages feature numerous nuggets of information about Halesworth and its notable people, as well as a page picturing locally discovered artefacts, some almost 2,000 years old.
You can also read a detailed history of Sir William Hooker who settled in Halesworth and rose to fame as a systematic botanist and organiser, and botanical illustrator. His son, Sir Joseph Hooker who was born in Halesworth was one of the greatest British botanists and explorers of the 19th Century.
There are also news reports of Sir Joseph Hooker on display here, which have been undertaken by a Year 6 class at Edger Sewter Primary School.
The Economic and Social History of Halesworth
But the pride of place of information about Halesworth's history must rest with Mike Fordham's 2005 published book entitled "The Economic & Social History of Halesworth", which gives a greatly detailed and interesting account of the history of the town from the Saxon period up to the beginning of the 20th Century. The book explains the reasoning behind past events and is aided by a range of fascinating maps and diagrams.