Halesworth War Memorial
Halesworth War Memorial was unveiled and dedicated on Sunday March 6 1921 at 3.00pm. The Museum has a copy of the service which preceded the ceremony but no photographs of the proceedings.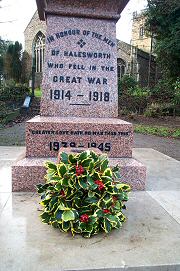 Following a service in St. Mary's Church Halesworth, The Choir, Clergy, followed by the Council, the Committee and relatives of the Fallen processed to the Arboretum, where the Memorial was Unveiled and Dedicated by Major R. A. Parry, D.S.O. This was followed by the Last Post, a short silence and the hymn O God our help in ages past. There then followed Reveille, the National Anthem and wreaths were laid on the memorial.
The names inscribed on the memorial are listed in full on this page.
Most War Memorials to remember those who died in the Great War were erected in 1921. Each town could choose from a selection of designs and how much they were able to spend. The records of those who had died were not readily available and so someone was asked to knock on doors to find out who should be commemorated. On side 2 facing north east, the name G. E. Johnson is not in alphabetical order as though it was added afterwards. It is possible that his name was accidentally left off or he died due to the effects of war after the dedication in 1946. In larger communities a widow often returned to her home town to be with her mother and so her late husband may well have been left off the memorial. The scale of death during the war was so great that some men died and details of their family were not available. For some men there are no family details on the web site of the Commonwealth War Graves Commission www.cwgc.org and some men's names are not listed on the site at all. However it is possible to arrange for them to be included as long as you have some sort of proof.

The Imperial War Museum has an enormous database containing photographs, the location and a transcript of what is written on many war memorials. The data can only be accessed by visiting the museum in person.
The War Memorials Trust (formerly The Friends of War Memorials)
is a registered charity dedicated to the preservation of memorials to those who gave their lives in the cause of freedom. The War Memorials Trust depend on donations and the support of regional volunteers.
www.warmemorials.org