Halesworth Town Trail
Market Place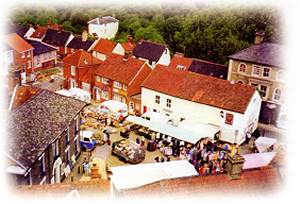 The market was known as the flesh market as many of the 28 stalls were rented to butchers. The stalls would have been alongside the Churchyard and on towards the present Market Place. In 1215 a papal edict went out forbidding the use of churchyards for markets and fairs. Lords of the Manor were able to buy the market charters. In 1222 Richard de Argentein, Lord of the Manor of Halesworth, gave the King two palfreys (two ladies' saddle horses) in exchange for a licence to hold a weekly market and a three-day fair at the Feast of St Luke, (October 18th).
The weekly market was held on Tuesdays but is now held on Wednesdays.
The Market Place is the centre of the historic town and is of particular charm when in use as a market. The town pump is enclosed in a rectangular stone casing of classical design with a simple moulded cap surmounted by an urn.
Number 5, circa 1350, is the oldest house in the Market Place with the rest being 16th and 17th Century.
At one end of the Market Place stands the former Three Tuns Inn (currently the Halesworth and District Social club). This is substantially a 16th Century building - contemporary with Gothic House - of outstanding architectural and townscape significance, with two fine 17th Century fourteen-paned gabled dormer windows. It was a post house, probably used as a centre for wool merchants. Plays would have been performed in the yard behind, where there was also a brewery, stables and a bowling green.
The wine shop and Masonic hall above were formerly used as a warehouse for the large department store that used to be opposite.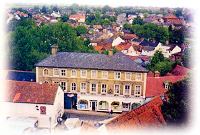 The building that used to be the department store is in Italianate style. It now houses individual shops but was once a large emporium that traded until the 1960's as Roe and Co. The open archway next to this leads to former warehouses and factories originally used as hemp and flaxworks to produce linen. They were later taken over as storage and stabling for Roe and Co.
Looking back towards the Thoroughfare can be seen a carved wooden archway. By looking closely at the carvings, a Masonic symbol can be seen. The archway is part of Mansion House. This building is mostly 17th Century, but it is believed that parts of this building date back to earlier times and it is thought that here there was once a Benedictine Hospital. Mansion House is the former home of Sir Benjamin d'Urban who became Governor of the Cape of Good Hope in South Africa. The city of Durban is named after him.
View the Town Trail on the Halesworth Map