Halesworth Town Trail
Steeple End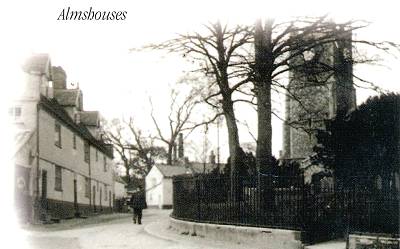 The Almshouses opposite the church were built from money left in the 1686 will of William Cary. Possibly the finest secular building in Halesworth, the Almshouses were in use until the 1960s, providing separate accommodation for 12 poor single men and women.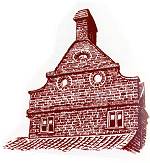 The Halesworth Art Gallery is on the upper floor of the Almshouses building. It has changing exhibitions of national works, from contemporary paintings and sculpture to ceramics and textiles.
St Mary the Virgin Church is of late Saxon origin with interesting brasses and memorials, also an important 15th century font. Near the south door an engraved tablet commemorates the town's connection with the first two Directors of Kew Gardens. The tower dates from the 15th Century. The original set of bells were cast at Bury St. Edmunds. Three of them recast by John Brend, possibly in Halesworth in the early 17th century. Halesworth is mentioned in the Domesday Book of 1086 recording Ulf the priest to be in charge of the parish.
The church was enlarged in the 14th Century and further enlarged in the 15th - with outer aisles and restoration taking place in the late 19th Century. The carved Danestones in the church are now believed to be early Norman in date. They were found in the church during the 19th century and could be part of a cross shaft. They depict hands clutching foliage or tails. Their original location is unknown, but undoubtedly pre-date anything now visible in the present church.
Tall railings once surrounded the churchyard. This provided protection from sheep and cattle being driven through on Market Day. This was known as Monkey Walk. A photograph of these can be seen on the timeline. The railings were taken down during World War II to be melted down to provide metal for the war effort.
Walk through to the Market Place between the church and the cottages.
View the Town Trail on the Halesworth Map