Halesworth Town Trail
London Road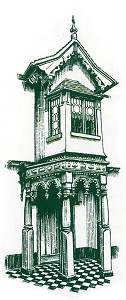 Until 1880 this was known as Pound Street, being the original location of the Manor's pound.
Numbers 1 and 2 London Road, Gothic House and Dairy Farm, were built in the 15th century as two houses. They were joined by a cross-frontage in about 1540 and later became the home of the Bedingfield Family (1595 - 1705) whose members became Lord of the Manor, Chief Justice, Master of the Merchant Taylors' Company and Lord Mayor of London. They added the porch on Gothic House in about 1640 and lived there until 1705. This house became Harvey's Academy for boys from 1816 - 1848 and was later divided into two houses in 1889.
The White Swan Public House, number 4 London Road, is 17th Century - and was brick-cased in the 19th Century.
Nearby were small fields known as the hemplands. The hemp was used for the production of sails and ropes for the Royal Navy. This land became the Cattle Market and was closed in 1989. Rainbow Grating at No. 95 London RoadSupermarket opened a store there in 1994.

Cross over to the church and follow the trail towards Steeple End. Number 95 London Road is believed to be the site of the first police station - note the grating at pavement level, possibly a cell.
View the Town Trail on the Halesworth Map