Halesworth Town Trail
By the Market Place
Directly opposite the Angel Link is a shop with a detailed ornate Italianate style terracotta frontage, exceptional for a small market town. Detail of terracotta frontage at No. 45It was built in 1870 for Lacon's Bank.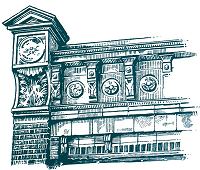 Next to the Angel Link is Bank House. This is Georgian and was originally Gurney's Bank in 1782 becoming Barclays Bank in 1896. The present frontage was built in 1855.
Moving away from the Angel Link is a triangle where the Thoroughfare meets the Market Place. A new lamp here marks the spot where a commemorative Jubilee Lamp was installed to celebrate Queen Victoria's jubilee.
Nearby stands the Town War Memorial shaded by the trees of the Arboretum planted by Mr Notcutt early last century. Adjacent is a notable black and white timbered house dating from 1589.
The Crabtree Memorial Homes were built in 1859 by John Crabtree, on the site of Chantry House, which was probably the house of the Chantry Priest for St Anne's Chantry in the North Transept of St Mary's Church.
Opposite can be seen the former White Lion - now a private house. It was previously known as the Blue Boar and was a public house until 1966.
View the Town Trail on the Halesworth Map